How to Make Deer Summer Sausage
Summer sausage is a delicious and easy-to-make dish that can be enjoyed all year round. Whether you are looking for a quick snack or a hearty meal, summer sausage is sure to satisfy your taste buds. In this article, we will provide you with an easy-to-follow recipe for making deer summer sausage. We will also discuss the different ingredients used in this recipe and the best ways to cook it. So, let's get started!
Summer sausage is the perfect grub on a long day of hunting. Whether you're still hunting through the woods for a squirrel. Or climbing Alaska mountains hunting the alpine for Sitka blacktail deer. I have packed venison summer sausage in my backpack for 30 years now. Deer summer sausage has become a traditional food for my hunts and for good reason. Deer summer sausage is packed with fat that you add in the mix. When coupled with a hunk of smoked cheddar cheese and a cracker it can feed you for several days. Every time I pulled my homemade summer sausage out at deer camp or at a party people would ask me, how do you make summer sausage out of venison. That's when I decided to write this venison summer sausage recipe and share the way I make it.
I have had this deer summer sausage article up for awhile now and have since created an easier and less expensive way to make summer sausage. To make the recipe below all of the ingredients must be purchased individually. This is expensive and unless you make a lot of summer sausage each year then those spices can sit in the pantry for sometime losing their flavor and possibly ruining. I like to make 10 pounds of summer sausage at a time. This is about right for a deer ham after the meat has been cleaned up and got ready for the grinder.
Simplified Summer Sausage
The recipe below is the way I made deer summer sausage for years. Every year I would have so much of the expensive spices and curing salt left over that I found myself purchasing more each year. This got expensive. You see, the problem is that if you don't purchase your summer sausage seasonings and cure in bulk then it gets even more expensive. Then a friend invited me over to make some deer summer sausage with his simplified summer sausage method. The deer summer sausage turned out so well that I begged him for the recipe and secret to this great and simple summer sausage.
The difference that these packets make is that there is no measuring or purchasing of expensive spices in bulk. It is just cut the summer sausage blend packet open and dissolve it in the appropriate amount of water to more easily mix with the meat. There is a cure pack for the specified amount inside the packet. Open this cure pack up and add it to the water and dissolve. Then add the dissolved ingredients to your meat and mix it up and your deer summer sausage is ready to stuff into casings, rested and smoked. To make it even more simplified you can roll your deer summer sausage into logs and smoke them without the casing. This gives your sausage a more european homestyle look and it is just as good.
After seeing how easy and delicious this deer summer sausage turned out I found a spice company that would put together this simplified summer sausage blend for Rambling Angler Outdoors.
Deer Summer Sausage Recipe
This deer summer sausage is perfect for day long hunting trips, fishing trips, camping or just as an appetizer. Complete with homemade deer sausage seasoning.
Sausage casings
Sausage stuffing machine
Meat grinder
Large bowl or sausage mixer for mixing ingredients
2.5 Lbs Pork Fat (Cubed for grinder and weighed)
7 Lbs Deer Meat (Cubed for grinder and weighed)
1/2 Cup Coarse Sea Salt
2 tsp Pink curing salt #1
2 tbsp Mustard seeds
2 tbsp Dry mustard
3 tsp Garlic powder
1 tbsp Black pepper (I like black pepper use less if you don't)
1 cup Fermento
1 cup water
8 18″ Collagen casings
Cut your deer meat and pork fat to a size that you can feed into your meat grinder and weigh it.
Add all ingredients except the Fermento and water and mix well. Mixing all ingredients before grinding will help mix them into the meat as it is ground.
If the meat is still good and cold then feed it through the large die on your meat grinder. If the meat is not cold place it into the freezer for a few minutes to get it there.
Place your first run of ground deer meat and pork fat in the freezer to get it cold then run it through the small die on your meat grinder for the final grind.
Place the ground meat back in freezer.
Dissolve the Fermento in a cup of water and add to the cold ground meat.
Mix the Fermento into the meat by hand or with a meat mixer.
When mixed well cover the bowl and place in refrigerator for at least a couple days to ferment.
After fermentation on your deer meat summer sausage stuff your meat into a sausage stuffer
Using sausage stuffer fill collagen casings full and tie off the end
Prepare your smoker and set to 120-130 degrees
Hang your deer meat summer sausage inside the smoker and add your favorite smoking wood chips or chunks and smoke at low temp for a couple hours to let smoke permeate the casings.
Turn up smoker temps to 170-180 degrees and smoke at this temperature until internal temperature reaches 150 degrees. Keep it smoking throughout this process.
You can wrap and freeze your deer meat summer sausage for several months.
NOTES:
The fermentation process for this deer summer sausage recipe is to give your deer meat summer sausage that tangy taste of true summer sausage. If you don't want the tangy taste you can leave out the Fermento.
I like my deer summer sausage to be peppery so i add a little more than some may like so keep this in mind.
Take a piece of your raw deer summer sausage and fry it up in a skillet and taste to get an idea what it taste like. You can add something at this point before you stuff your casings and smoke.
It is possible to pack your casings by hand without a sausage stuffer. I remember stuffing plastic sausage packages with my granny when I was a little boy. We used a spoon to get it in the packing. Then we turned the spoon over to press the sausage into the packing. We were careful to get out all the air out of the casing.
I like straight up hickory wood chips and chunks for my smoke. You can experiment with other wood but I do almost all my smoking with hickory.
You can soak your wood chips and chunks if you like. I have tried soaking mine and it just doesn't seem to make enough of a difference to me so I use dry wood for smoking.
Prepare Your Summer Sausage For Storage
You have put in a lot of effort to ensure that your smoked sausage is the best you can make. Its final appearance will be influenced by how you handle it now that it is ready to be removed from the smoker. Although the actual "flavor" of your sausage links won't really be affected by these final two steps, if you want the best sausage you can make (and I'm sure you do), don't forget to include them. Keep in mind that we eat with both our eyes and our mouths!
Showering Summer Sausage
Once your sausage reaches the right internal temperature (152 degrees Fahrenheit), the casings must be cooled thoroughly and quickly or they will shrivel and shrink. Once the links are removed from the smoker, this happens quickly, so you need to get everything ready for the showering process. Showering is really just quick water cooling of the sausage. Using a garden hose is the most effective way to shower a large batch. Spray the summer sausage along with the racks or smoke sticks with cold water after removing them. The goal is to reduce the temperature of the sausage as quickly as possible to 120 degrees.
By taking smaller batches of sausage out of the smoker and directly placing them in a tub or basin of cold water is easier for me. I have a deep, large kitchen sink that works well for batches of about 15 pounds. I can keep the water bath cool by running cold water through the sink. A large tub or pail and a garden hose could also be used to accomplish this.
Tip: If your sausage shrivels before you can cool it down, you can reheat it in a 160- to 170-degree water bath to bring it back to life. However, getting it properly cooled the first time is much simpler.
Blooming Your Summer Sausage
Your smoked sausage ought to be nice and plump now, and the brown color it will have taken on from the wood smoke. However, you must now "bloom" your sausage links to ensure a deeper and more uniform color.
Before packaging your sausage for storage, blooming is nothing more than letting it dry and "age" at room temperature.
I suspended my sausages over a couple of chair backs and put them back on the smoke stick or racks, whichever I used, for blooming. In the event that the sausages drip a little water before they dry, you might want to cover them with newspaper or kitchen towels.
Summer Sausage Blooming Tip: The color will become deeper and darker the longer you bloom the links. In most cases, I find that blooming takes about two to three hours.
Your links should now be packaged and stored in the refrigerator.
The sausage you plan to consume soon can be stored in the refrigerator for three to four days. The sooner you place it in the freezer, the better, if you intend to store anything for longer than that.
Frozen sausage usually tastes best when used within three months. I find that if it is vacuum packed, it can be stored in the freezer for up to nine months.
Here Is A Great DIY Sausage Stuffer For Your Processing Equipment
If you love to make summer sausage whether it be deer summer sausage or your own favorite Using this 5 lb. container, which is simple to fill, stuff, and clean, you can make your favorite sausages. Stuffing of Sausage The performance and dependability of these stainless steel stuffers with a single gear set the standard. The carbon steel gears are manufactured with precision to prevent slippage and wear. The stainless eliminates rust or accumulated germs. It's simple to remove for cleaning. The built-in release valve on the hard plastic piston makes it easier to work by allowing air to escape. The 5 lb. weight is protected by the stainless steel casing. The gear-driven Sausage Stuffer is still a dependable, high-performance machine. The 5 lb. provides additional protection. The Sausage Stuffer comes with a gearbox cover that protects your gear and food, elevating safety and durability to new heights.
A Great DIY Meat Grinder By Cabelas
I have had the privilege to use this Cabelas grinder. All I can say is that it will be the only grinder you need for this deer summer sausage recipe. The only thing you might consider is a bigger model as they sell several sizes. Or, you might just need a smaller meat grinder if you process just a deer or two or like to make a few sticks of summer sausage a year. I can say that I really enjoyed using this meat grinder to make summer sausage at home and will be purchasing my own soon. Please read the description below. It is long but for a reason, this meat grinder offers a lot and I know you will love it too.
Cabelas Meat Grinder Description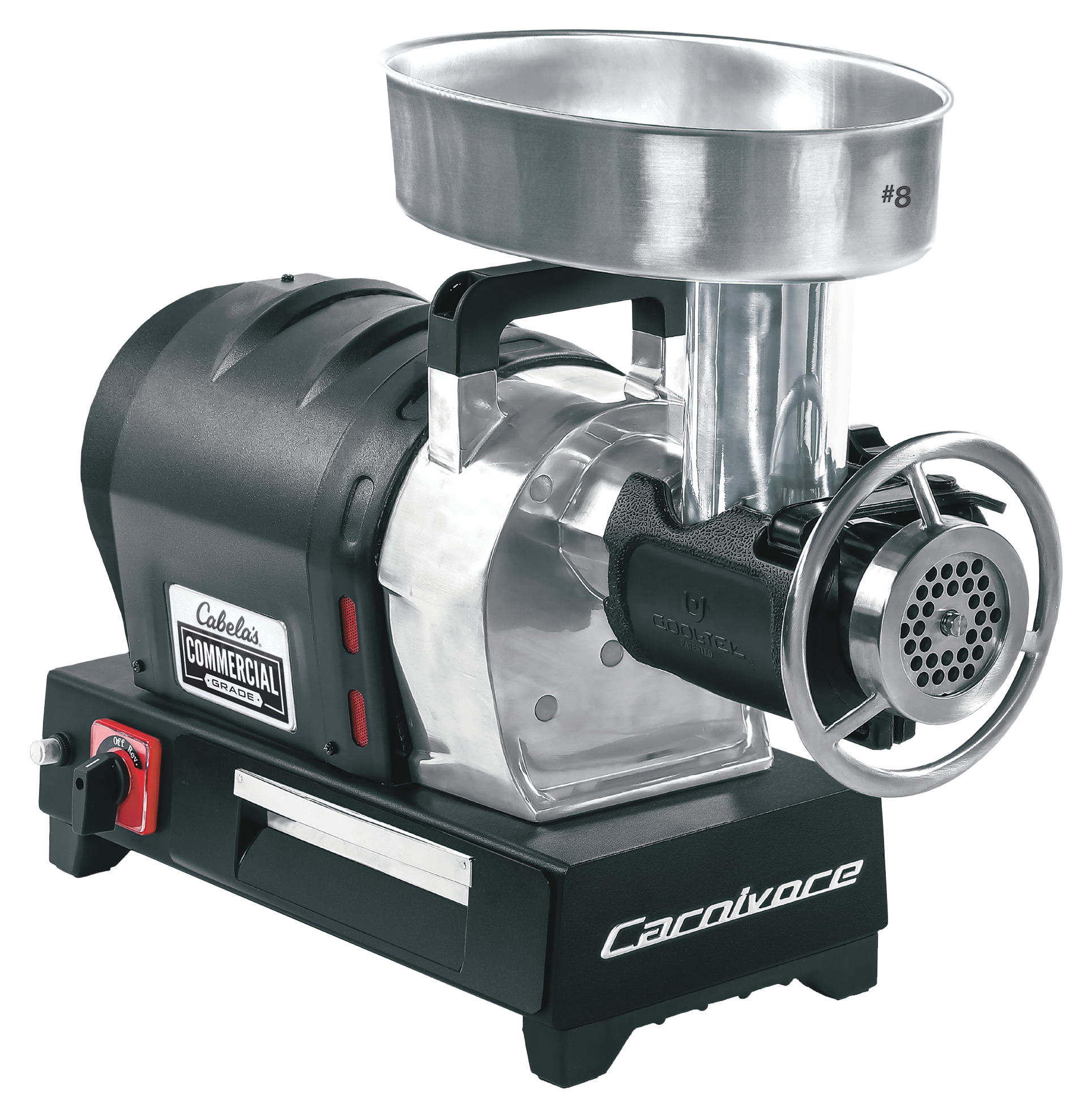 The Cabela's® Commercial-Grade 1/2HP CarnivoreTM Meat Grinder brings reliable, high-capacity meat-grinding power to your home and now comes with even better Cool-Tek® Ice Pak technology. The Carnivore's 370W induction motor effortlessly grinds 5-7 lbs of meat without bones per minute, with 1/2 HP of high-efficiency, high-torque power. This power flows smoothly to the grinder's auger thanks to a hardened, heavy-duty steel main gear. The drive gear is housed in a gear housing that is permanently lubricated. The grinder's engineered motor airflow helps keep the grinder cool and reduces heat transfer to the grinding area. It is equipped with a high-output air-cooled fan, ribbed motor cover, and a one-of-a-kind air-cowl design. In addition, the improved Cool-Tek Gel Ice Pak around the grinding head of this high-performance model helps prevent meat from sticking and binding during grinding. The bottom of this innovative heat-reduction design now has heat sink technology that channels heat away from the grinder head through aluminum fins.
The auger-pull-handle tool makes it simple to remove the auger for easier cleanup. While a commercial-style grinder-head ring nut makes it easy to remove the grinder plates, blade, and auger. The grinder's high capacity offset grinder head and deep-cut auger design are made easy to load thanks to a high-capacity, heavy-gauge stainless steel meat tray on top. Three 23mm, 29mm, and 39mm deer summer sausage stuffing funnels, two snack stick funnels, a meat stomper, a 10mm coarse grinding plate, a 4.5mm fine grinding plate, a one-way cutting knife, and a summer sausage stuffing star are included.
It's simple to keep these accessories close at hand. Thanks to a side-entry storage drawer with smooth-sliding ball-bearing slides and a vibration-dampening mat that can be removed. power switch with reverse function mounted sideways. Large, non-slip feet for a sturdy foundation. Use the handle to transport more easily. Certification for commercial use of ETL sanitation. 20″ long, 9.5″ wide, and 17″ deep. 45 lbs.